Satch and Me
Written by Dan Gutman
Reviewed by Nicholas S. (age 11)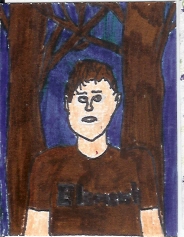 Satch and Me by Dan Gutman is about a boy, Stosh, who can travel through time with baseball cards or pictures. Flip Valentini, his retired Little League coach, and Stosh, go back in time to meet Leroy (Satchel) Paige to clock his fastball. As usual, something goes wrong. Now Flip and Stosh must get out of 1942 in one piece.
I think this book shows character and teaches lessons. My favorite part of the book is when they are in the middle of a Little League game when Stosh would lose the game, but then at the end of the book, he would win the game for his team and be the hero. I liked Stosh because he is always thinking about every little thing. There are very few illustrations, but they are very unique and touching. The book is similar to Gutman?s other books, like Honus and Me or Babe and Me.
I would recommend this book to anyone who likes adventures, history, and fiction genres. You might like this book if you like reading about American history and the struggles people have gone through.