Judy Moody Gets Famous!
Written by Megan McDonald
Illustrated by Peter Reynolds
Reviewed by Zaria G. (age 10)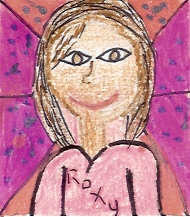 Judy Moody Gets Famous, by Megan McDonald, is about a girl named Judy who wants to be famous. This is a book with an important message.
Judy is a normal kid in school, but she is also the princess of ?geeks.? One day Judy was looking at the morning newspaper that came every Sunday morning at 8:00 A. M. Then, she saw her worst enemy, JESSICA FLINCH, on the front cover. Judy and Jess did not get along because Jess had always gotten so much attention since second grade, and Judy was always jealous. On Monday morning Judy found out that Jessica had won the spelling bee she had hoped to win. Judy was very upset, until her father helped her to see things differently.
I think this book has a very important message to whoever is trying to impress people in the wrong way. Judy?s father helped her realize she was special without having her picture in the newspaper.
I recommend this book because it helps you to feel good about yourself. It helps to show you that everyone is special in their own way. It is a good book for anyone to read.