Eldest
Written by Christopher Paolini
Illustrated by John Palencar
Reviewed by Ian L. (age 10)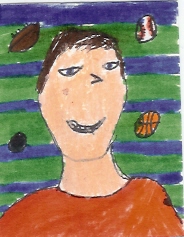 Eldest by Christopher Paolini is the sequel to his first book Eragon, the story of a boy who finds a dragon egg while hunting. When it hatches, he has to save Alagaesia, the incredible land where he lives, from the evil that?s trying to destroy it. In Eldest, Eragon goes to the Elves for training to defeat the evil. It is an action-packed, exciting story.
I like the character Eragon and his dragon, Saphira, because they are trying to bring peace back to Alagaesia. I don?t like the evil King Galbotorix because he destroyed the Dragon Riders. The author has a great writing style because his stories are gripping, and he makes you feel like you?re in his stories.
I recommend you read Eragon before you read Eldest so you understand the story better. People who would like this book are people 9 or older who like adventure stories.