Nothing's Fair in Fifth Grade
Written by Barthe DeClements
Reviewed by Amanda G. (age 11)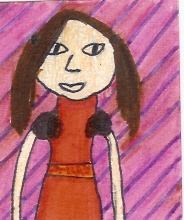 Nothing?s Fair in Fifth Grade is by Barthe DeClements. When a new girl named Elsie walks into Jenny Sawyer?s fifth grade class, everyone?s lunch money seems to disappear. They all blame Elsie. Jenny and her friends soon find that Elsie is a great friend and extremely smart! But Elsie?s mom wants to send her to boarding school. What will happen to the new girl, and is Elsie the real thief?
I thought this book was great! My favorite part in the story was when Jenny found a true friend in Elsie because I just knew they would become friends. This book teaches you a valuable lesson on how you shouldn?t judge people by what?s on the outside, but what?s on the inside. This story was a true learning experience!
I would recommend this book to girls, because most of the characters are girls, and they have familiar girl problems. I think girls in the fourth or fifth grade would be able to read and enjoy this book. I hope other girls will love it as much as I did!