Horrid Henry's Classroom Cooties
Written by Francesca Simon
Reviewed by Sam L. (age 10)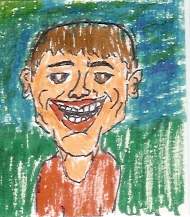 Horrid Henry?s Classroom Cooties, by Francesca Simon, is interesting because there are three different stories, but each one has the same characters.
The first book was about Henry going on a class trip, but his brother was going with his class. Henry got in trouble with the guard, but since his brother had the same shirt on, the guard mistook him for Henry. The second story is about Henry?s worst enemy who had to live with him because her parents were going on vacation for two weeks. She bothers him and his parents yelled at him for what she did. In the third story Henry had lice which caused trouble.
I thought this was very funny. It is funny because the author used silly nicknames like Rude Ralph and Moody Margaret. It is also great because it is very surprising. Another funny, surprising part is when he had lice and took them off his head and put them on everyone. Another funny part is when Henry's mom got furious because the guard mistook Henry's brother as Henry and got him in trouble. Surprising things would happen when Margaret came over. She would do bad things but then blame them on Henry. It was funny when Margaret was the first one Henry put the lice on.
I would recommend this book to someone who likes adventurous and surprising books and to someone who likes hilariously funny books. This book would be great for a lot of people.