Reach for the Stars
Written by Anne Mazer
Illustrated by Monica Gesue
Reviewed by Kristen R. (age 11)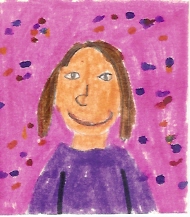 The Amazing Days of Abby Hayes: Reach for the Stars, #3, by Anne Mazar? is an outstanding book. This novel is my favorite. This book keeps you reading. It?s about a girl named Abby Hayes. She loves to write? but sometimes she gets an award or gets into trouble.
Abby?s class was putting on a play, ?Peter Pan,? for her whole school. She wanted to get a good part like Wendy or Peter Pan. Everyone wanted the same parts, so she must standout at the tryouts. She needed to learn everything to become a star! Did Abby get a big part or would she not be able to reach the stars?
I like this book because you never knew what was going to happen next. It was funny when she wrote in her diary. This let you know what Abby was thinking and how she felt about events and people in the book. This book makes you never want to stop reading. I think you should read the first two books before you read this one. You will appreciate this one more.
I recommend this book to people who like to read diaries because half the book is Abby?s diary. Also if you enjoy funny books, you will love this book. I really enjoyed this book, and I hope you will too!