Shakespeare's Secret
Written by Elise Broach
Reviewed by Meg D. (age 10)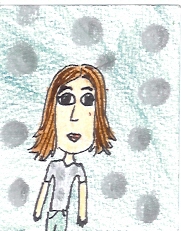 Whose necklace is it and where is the diamond? These are just a few of the questions you will be asking when you are reading Shakespeare?s Secret by Elise Broach, this fast-paced mystery. Hero, the main character, just moved into town. She?s already made some friends, and she?ll need their help. Named from a character from one of his plays, Hero is pulled into Shakespeare?s history. Hero?s house holds a diamond put there by its last owner. With the help of Mrs. Roth and Danny, Hero could solve the mystery. Read the book to find out.
I really like this book because it?s like no other book I read. The way the author did this is by combining historical-fiction and mystery to produce an awesome book. Some of my favorite parts of this book are when they find out secrets, like where the diamond is. This book is not part of a series, but it made me want to read other books about the Elizabethan era. I also think that the main character, Hero, changed because she was not interested in Shakespeare's plays, but now she is.
I really like this book and recommend this book to people who like mysteries. This is one of my favorite books in the whole world, and I?m sure it?ll be others, too, as soon as they read it.