Deltora Quest: The Forests of Silence
Written by Emily Rodda
Illustrated by Marc McBride
Reviewed by Adrian C. (age 11)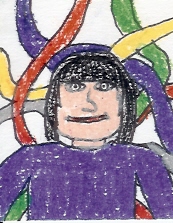 Deltora Quest-The Forests of Silence by Emily Rodda is a very interesting story. This book is about a boy named Lief, who goes on a perilous journey to find the gems of Deltora. Deltora is a land of monsters and magic. Lief travels with his companions named Barda and Jasmine.
I think this book is very good. I like it because there is a lot of adventure and action. My favorite part is when they battle Gorl, the guard of the first gem of Deltora. This book is part of a series of eight books. The author, Emily Rodda, also made two other series, Dragons of Deltora and Deltora Shadowlands.
I recommend this book because I enjoyed reading it so much. Students who like adventure and magic should read this. The story might interest readers who like battles and mythical creatures.