Godzilla
Written by Kimberly Weinberger
Reviewed by Andrew K. (age 12)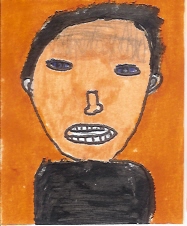 Godzilla, written by H.G. Gilmour is about a monster that destroys everything and fights the military. There are a lot of cool weapons and a great deal of action in this story! The secret service also helps fight this terrible monster. I liked it because it was one of my favorite books about my favorite movie star, and I am a fan of these types of books.
Godzilla has risen from the sea to take down New York City. The army attempts to stop it. While they?re busy with Godzilla the French Secret Service tries to destroy Godzilla?s hundreds of eggs. When those eggs hatch, oh no!! If you like books about monsters and action you?ll love this book!
Nick Ttotapolis is forced to join the army to help them find out more information about Godzilla. He becomes a hero in the story. He finds Godzilla?s eggs and helps the army destroy them. The army uses fighter planes to make sure the eggs don?t hatch. This is very exciting!
I highly recommend this book because it has a lot of action and giant monsters. They attack New York City. The army must destroy these creatures, but these monsters won?t back down without a fight. To learn more about this exciting adventure story, read this book!!