The Karate Class Mystery
Written by Elizabeth Levy
Illustrated by Denise Brunkus
Reviewed by Ryan T. (age 10)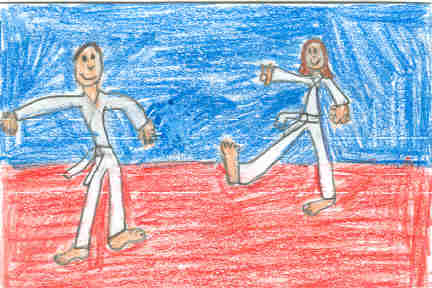 Chip, Justin and Charlene are in the club Invisible Inc. and they solve mysteries. Tonya wants to be a detective. Chip is invisible. Justin is deaf, but he can read lips. Charlene is very smart but she is bossy. In karate class, somebody stole Justin's lucky karate belt. Chip saw Charlene take it, but she said that she put it back. Did she steal it? Charlene and Tonya work together to prove that Charlene didn't take the belt. Read The Karate Class Mystery and find out who took Justin's belt.
I found this book interesting because I like to solve mysteries. It took a while to figure out who took Justin's belt. My favorite part of the book was when Tonya was working with Charlene to find the person who took Justin's belt. I liked this part because Tonya and Charlene interviewed and tricked people as they tried to figure out who stole Justin's belt. All of the characters remind me of myself because I take karate classes like them.
I would recommend The Karate Class Mystery to both boys and girls, ages 7-10. If you like karate, funny books, and you like to solve mysteries, then you would like this book.