The Ghost of Fossil Glen
Written by Cynthia DeFelice
Reviewed by Rachel A. (age 9)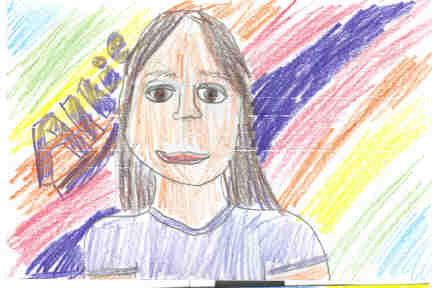 "I am L" These words appeared in Allie's journal one night. The "L" trailed off in a streak of ink as if the writer had been interrupted. Somehow this "L" tries to get Allie to figure out that she was murdered and that the murderer is still up to something bad. Will Allie be able to help "L" in time, or will she let her new friend down?
Allie reminds me of Ted in the book Room One because their imaginations run wild. Ted made up stories about April's family. Allie made up stories about Mr. Pinkney, Mrs. Hobbs and Ms. Gillespie. They both like to think about people's pasts. I like the way Cynthia DeFelice puts a lot of suspense in this book, like when Gag-Me is chasing Allie. In the book it said,"She came to a spot where she was stuck. There was nowhere to dig a foothold, nothing to grasp and nowhere to go. Below her very close was Gag-Me." That made me feel nervous, scared and worried. Allie would be a good friend. She wants to figure out the mystery and never gives up. She's always very confident.
I would recommend this book to anyone ages 9-13 because there is a ghost and a murder in it. Also, younger kids might not understand what's happening. This mysterious, exciting, sad, suspenseful book will delight you. This is the best mystery I've ever read!