A Spy on the Home Front
Written by Alison Hart
Illustrated by Jean-Paul Tibbles
Reviewed by Emma T. (age 9)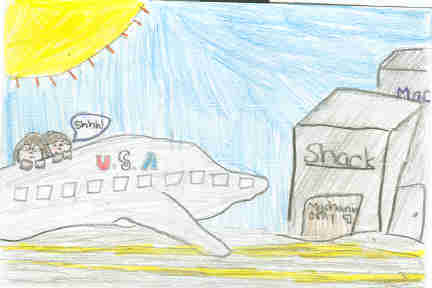 If you like adventures, then A Spy on the Homefront is the book for you. It's about a twelve year old girl named Molly who is on a vacation to see her gandparents and friends in the summer 1944. Back in the 1940's, the war was still going on. Molly's friend, Anna Schulz is German and Germany is in a war with America. The Schulz's are in trouble because of their nationality, and Anna and Molly have to be detectives. Can Molly help her friend stay safe and get Anna's brother Max out of jail? Read A Spy on the Homefront to find out.
I love the way Alison Hart made Molly so helpful to her friend. When Max gets put in jail, Molly is determined to help no matter what she has to go through. I also think the author is a great descriptive writer. She paints a great picture in your head. I think Molly is the perfect friend to have since she is so brave and she is willing to do anything for her friend, even if it means sneaking out and getting in trouble.
This book is filled with suspense and adventure. It will keep you reading and you'll never want to put it down. Alison Hart puts in great description and makes the characters unpredictable. I would recommend this book to fourth and fifth grade girls because it is in the American Girl series and I think nine, ten and eleven year olds would enjoy that series.