The Ninth Nugget
Written by Ron Roy
Illustrated by John Steven Gurney
Reviewed by Thomas D. (age 9)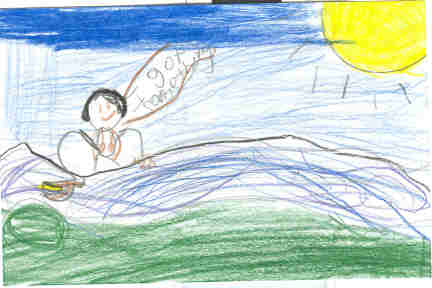 I just read the A to Z mysteries book The Ninth Nugget.The main characters are Dink, Josh and Ruth Rose. They went to the Wheat Dude Ranch to have some fun. A man named Jud Wheat works at the ranch. Josh found a golden nugget in the river. Then they put it in a safe. When they came back it was gone. Dink, Josh and Ruth Rose work together to find the missing nugget. Read to find out what happens!
I think this was an exciting book.It is exciting because the robber pretended to hurt his ankle so that he could stay at the ranch. I was surprised when the people at the ranch fell for it. But Dink, Josh and Ruth Rose use clues to try and solve the mystery. Ron Roy used suspense throughout the book. I did not know if they were going to get the golden nugget back. I like when the kids explore the people's cabin looking for clues. But I don't think it is right to look through other people's things even if it is to find clues. This book reminds me of the Cam Jensen series because Cam never gives up on solving a mystery. She is like Josh, Dink and Ruth Rose.
I would recommend this book to kids 7-10 because if you are older you may think it is too easy. If you like mysteries you will like this book. If you do, you can find more A to Z Mysteries books because it is a series.