Holes
Written by Louis Sachar
Reviewed by Richard G. (age 9)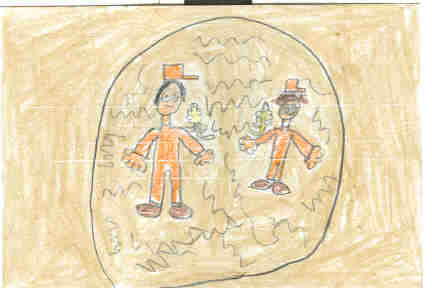 Stanley Yelnats is always at the wrong place at the wrong time. The worst was when a pair of shoes "fell" from the sky into his hands and he gets arrested for "stealing" Clyde Livingston's sneakers. He gets sent to Camp Green Lake to dig holes for a year and a half. Is Camp Green Lake really for building character? No! The camp's only purpose is to find a treasure. Who will find the treasure first: the warden or Stanley? Read to find out!
I like Louis Sachar's humor. For example, when Stanley and Zero first discover the onions on the mountain, Stanley wants Zero to take a bite of one. Zero asks "What is it?" and Stanley says "It's a hot fudge sundae -- just eat it!" My favorite part was when Barfbag purposely gets bitten by a rattlesnake. It wasn't the smartest thing to do, but it was the only way to get out of camp except for waiting eighteen months. Stanley reminds me of my dad. To run away from camp with no food or water is brave. My dad is also brave and if he had plenty of food and water, I bet he would do the same thing.
I recommend this book because it is suspenseful, funny and exciting. This is a great book and good for kids in grades four through six.