The Ninth Nugget
Written by Ron Roy
Illustrated by John Steven Gurney
Reviewed by James O. (age 11)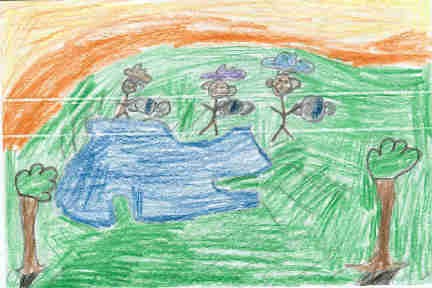 Dink, Josh and Ruth Rose love to hang out together. Ruth Rose has long, curly hair. Josh has freckles on his face. Dink has short, blond hair. While they are at the Wheat Dude Ranch, Dink finds the Ninth Golden Nugget. Then it gets stolen. They try to find out who took it.
I liked this book because it was a mystery and I wanted to read on and find out what happened next. When I was reading this book I was hooked into it because I was always trying to figure out who stole the ninth nugget. My favorite part is when the kid on the roof ropes a possible suspect around his waist. I could get a picture in my head and this was funny! The robber reminds me of myself because whenever my brother gets cool stuff that I don't have, I get jealous and I steal his cool stuff! I found Ruth Rose interesting because whenever the other kids had a thought about the case, Ruth Rose helped her friends find the clues.
Whoever likes mysteries should read this book. I would recommend this book because it is exciting. There is a lot of action involved.