Sammy Keyes and the Hotel Thief
Written by Wendelin Van Draanen
Illustrated by Yaccarino, Dan
Reviewed by Kirstie M. (age 10)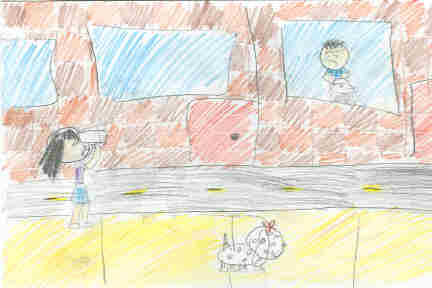 Sammy Keyes is looking through her binoculars when she spies a man in a hotel stuffing money in a purse. She runs to tell the police, but what if they don't believe her? She decides to get more clues but that might not be enough! She knows who took the money but won't somebody think she's right? Read this mystery to find out!
I think this book is almost like The Boy who Cried Wolf. I think this because Sammy said she knew how to solve the mystery but no one believed her. She said it again and again but still no one believed her. In the end of The Boy Who Cried Wolf, the boy kept saying there was a wolf, but no one believed him. Sammy Keyes is a cool character. She's a great detective and she never gives up on herself. People might try to push her around but she knows she's better than them. For example, when they didn't believe her she went over to her grandma who told her "They might not think you're right, but if you think you are, you are." That made her feel better. Sammy Keyes has a crazy life in this book. Nobody believes her. I would do something about it, like tell my friends. They would help me prove to everyone that I'm right. Did anybody ever believe Sammy? Read the book to find out if someone did!
If you like mysteries that make you scratch your head, then this is the book for you! There are many things to question. So stop what you're doing and run to the nearest library and READ THIS BOOK!