Days With Frog and Toad
Written by Arnold Lobel
Reviewed by Jed X. (age 10)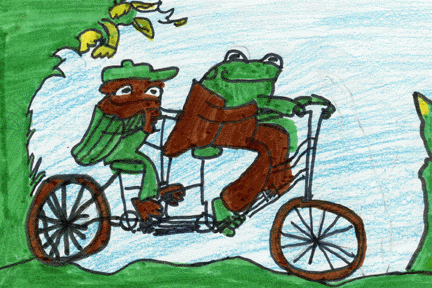 This book is about two best friends, Frog and Toad. Frog and Toad have a lot of adventures together. They try to fly a kite, but it won?t fly. Toad decided to jump up and down and run. Then the kite flies.
I recommend this book to people who like picture books. The pictures in the book were nice and colorful. They were on every page. If you like adventurous stories, you will like this book. A part in the story that might interest a reader is when Toad rode on the turtle?s back to get to the island. Toad went to the island to meet up with Frog so that they could spend evenings together.
If you like stories of Frog and Toad, this is another one of their adventures together. My best part in the story is when Frog scared Toad with his spooky story about a frog that eats children. Frog reminds me of myself because he likes to be alone and so do I. If you read this story, you can also read about what happens to Toad when he got a hat from Frog for his birthday. Of all the Frog and Toad stories published, this story is one of my favorites, maybe it will be yours too.