A-Z Mysteries: The Yellow Yacht
Written by Ron Roy
Illustrated by John Steven Gurney
Reviewed by Rachel G. (age 8)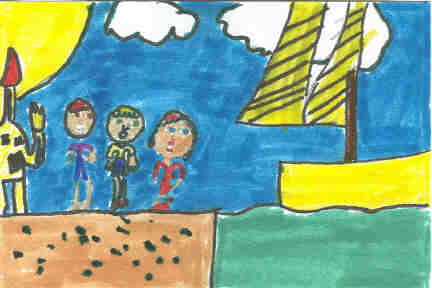 Dink, Josh and Ruth Rose travel to a small country called Costra to visit their friend Prince Sammi and his parents King Farhad and Queen Grace. While they are there the king's gold gets stolen. Who did it? It's up to the three friends to solve the mystery. Lots of suspects turn up here and there but the three detectives are able to find the real culprit.
This is an awesome book. My favorite part of the story is when Dink, Josh and Ruth Rose find the gold because it is a real surprise! If you have never read Ron Roy's books you should start. He makes the reader feel like a real detective. I think you will too. Read this book to see who steals the gold.
I recommend this book to people who love mysteries and like to solve problems. The author uses great description and colorful language. I think second to fourth graders will love this book. I hope you enjoy it too!