A Spy on the Home Front
Written by Alison Hart
Illustrated by Jean-Paul Tibbles
Reviewed by Katherine O. (age 9)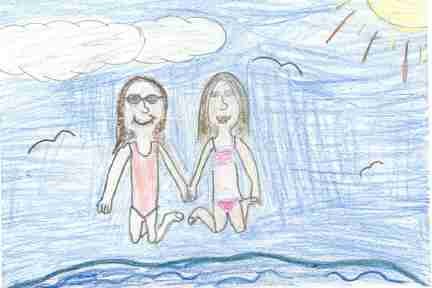 A Spy on the Home Front is an historical novel about two twelve year old girls named Anna Schulz and Molly McIntire who are trying to help Anna's brother get out of jail. Back in the 1940's World War II was going on. The Schulz family is German, and Max, Anna's brother, gets arrested because the government thinks he's a German spy. Will Anna and Molly ever save Max?
I like the way Alison Hart built suspense in this book. For example, when Molly was hiding in a locker room that said "Private for the Mechanic Dave," Dave suddenly walked in! What will happen? You'll have to read the book to find out. I love how the author made Molly so brave as a character. For example, when Molly snuck out to ride to the airfield alone, she knew the F.B.I. would be there and she might get caught. However, she goes anyway. I also like the way Alison Hart described things. For example, when Molly's grandmother was picking green beans, instead of writing that her hands were green and she was sweating, she wrote "her fingers were stained green and sweat trickled from under the brim of her straw hat. Alison Hart is a great descriptive writer.
I would recommend this book to fourth and fifth grade girls because it is from the American Girl series. However, it is not one of those easy reads; it is mystery chapter book for slightly older girls. It's a suspenseful adventure. You will never put it down.