Superfudge
Written by Judy Blume
Reviewed by Areumee Y. (age 10) & Mona M. (age 10)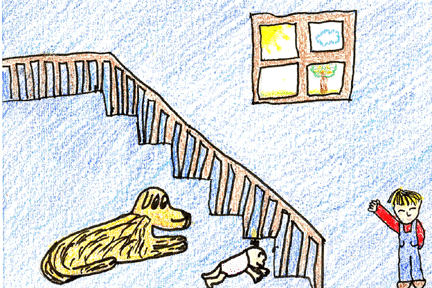 Have you ever called your teacher a name? Well, in Superfudge someone does. His name is Farley Drexel Hatcher. He likes to be called Fudge or Fudgie. This is only the beginning.
It was the first day of school, Fudge's teacher was Mrs. Hildebrandt. Mrs. Hildebrandt called Fudge by his real name. Fudge called his teacher "Rat Face" because he doesn't like to be called Farley Drexel. Fudge might get into trouble. If you want to know what happens next, then you should read Chapter 6 in Superfudge. If you like it, then read the rest!
This book reminds me of my brother. He doesn't always listen to his teacher so he gets into trouble. This book is also in a series. There are four books. The first one is called Tales of a Fourth Grade Nothing. Book two is Superfudge. Book three is Sheila the Great. Book four is Fudge-A-Mania.
I liked this book because Fudge held a worm upon Tootsie's head (Tootsie is his sister) and when Mrs. Hatcher saw it, she screamed because she was scared of worms!
We recommend this book to people who like funny books because this book is very funny. Also, if you like the author Judy Blume, you will like this second book!