Star Wars Episode 1 The Phantom Menace
Written by Patricia Wrede
Reviewed by Tyler N. (age 10)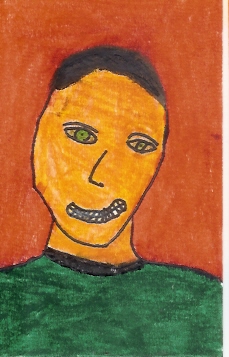 The book I read was Star Wars Episode 1 The Phantom Menace. It was written by Patricia C. Wrede. I liked this book because it is an interesting book about inter galactic travel.
A long time ago in a galaxy far far away, two Jedi?s named Qui-Gon-Jinn and Obi-Wan-Kenobi fight their way to the Trade Federation Center. They visit the planet Tattoon. They meet someone named Watto. Watto is a junk shop owner of the planet Tattoon. It is a hot and sandy planet. Anakin Skywalker and his mother are slaves to Watto. There are special devices in their bodies that can kill them if Watto sets them off. The two Jedi?s take Anakin to become a Jedi, but, he needs the money to fix their ship. So, Anakin goes pod racing and wins $500. Anakin goes with the two Jedi?s to the Jedi council. There sits Jedi master Yoda, Mace Windo, and Boss Nass. This is a great science fiction story filled with action and adventure.
Anakin goes to the Jedi council where Yoda, Mace Windo, Boss Nass sit, Mace Windo holds up a screen that Anakin can?t see through. Anakin guesses what?s behind it. He guesses correctly. Then Obi-Wan Kenobi says, "This boy can?t become a Jedi he is to old" Anakin says, "I?m only 9 years old." Qui-Gon-Jinn tells Anakin that Obi-Wan means that Jedi?s are recognized when they are 1 year old. Yoda says, "He got all of the answers correct." Qui-Gon says,"But master Yoda the force is strong with him." Yoda tells Qui-Gon that he already has an apprentice. Obi-Wan says, "I?m ready to be a Jedi knight." Yoda tells Obi-Wan that he is only a padwan apprentice. These scenes are very intense and help to explain how one of the characters can become a Jedi.
I liked this book because I enjoy science fiction and fighting. I recommend this book to people who like battles and space ships.
If you like galactic stories read Star Wars books and the 6 series. The book can be found at your local library.