Half Magic
Written by Edward Eager
Illustrated by Edward Eager
Reviewed by Nicholas S. (age 11)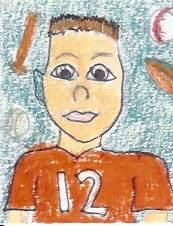 The story I?m writing about is Half Magic by Edward Roger. This book was very interesting. It?s similar to a mystery book. There are kids with magical powers trying to solve a mystery. I liked the book because I like mysteries and this is a mystery book.
The main characters are Martha, Mark, Katherine and, Jane. They try to solve a mystery from 1937 that uncle?s son. This family tries to solve the mystery while using their powers. The powers were given by their Uncle Edwin. They didn?t notice that they had these powers. They found out that they had the powers because one day they were taping and clicking to a beat and everytime they clicked a light would show up on the ceiling. When they would yell they would be floating in the air. They remembered that Uncle Edwin was a magician, and realized that they must have magical powers too. This part made the story funny and interesting.
The next day they went to their uncle for information about Eric. Eric Edwin had died for no reason. Eric Edwin was their Uncle's son. He said that he had heart problems and an eating disorder. This was sad and left the characters unsure about what to do next.
I liked the book. I recommend this book because it held my interest completely. If people like mysteries, this is the book for them!