Judy Moody, M.D. The Doctor Is In
Written by Megan McDonald
Illustrated by Peter H. Reynolds
Reviewed by Patrick M. (age 9)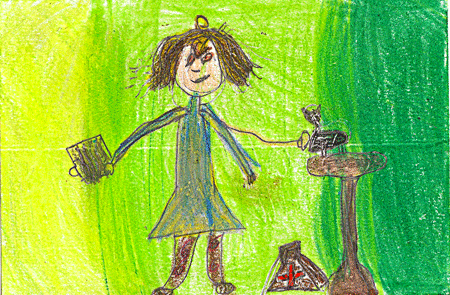 Judy Moody, MD-The Doctor is in by Megan McDonald is a funny book. Judy Moody is an average girl who lives with her mom, dad, and Stink. In the beginning of the story Judy pretends to be sick. She says she has strep throat and mumps. It was funny because she lied and put red cough drops in her mouth and said she was sick. In the middle, her brother gets sick instead of her. She was really mad! In the end she gets sick. Judy finally gets all the attention, but she said it was not worth it. Will Judy get better? Read this story to find out.
Judy Moody M.D the Doctor is an out of this world book. It is out of this world because the characters are very funny. They are very funny because they say funny words like hardy-har-har. Another reason why they are funny is because they act dumb by making funny faces and by saying "da" to make each other laugh. It is also out of this world because it has good descriptions. The author said," Judy's tongue was red as a cherry." She also said, "She was as cool as an ice cube." You can really picture what is going on because of these fantastic descriptions. It also has amazing pictures. You will see class 3T with skeletons in it. You will also see Stink with a funny face in his bed when Judy is giving him the wrong pill. As you can see, Judy Moody M.D. is an excellent book because the characters are funny, it has good descriptions, and it contains amazing pictures.
I highly recommend this book to people who like laughing their heads off. The descriptions and pictures will really crack you up. I loved reading this book and so will you!