The Dog That Called the Signals
Written by Matt Christopher
Reviewed by Shaun C. (age 9)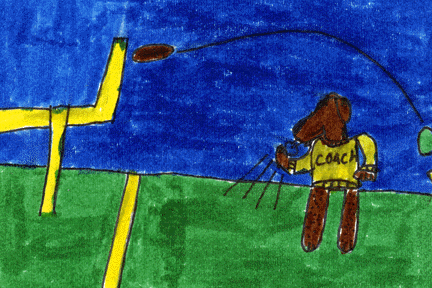 Did you know that dogs could talk telepathically? I didn't. Now I do because in this book, The Dog That Called the Signals, Mike and his dog Harry can talk telepathically, Mike has to play quarterback on the school football team. He is scared because he has never played that position before. He is just filling in for his friend. The day comes when Mike has to play the Browns. Then the coach twists his ankle and someone carries him to his house. Harry the dog stays with the coach. Later, he tells Mike the plays he needs to do and they win the game!
My favorite part in the book is when Harry tells Mike to do a play. He tells him to pass the ball to his teammate. This book is different because a dog can talk telepathically. If you don't know what telepathy means, I'll tell you. It means that you can talk to another person in your mind without saying the words out loud. I felt like I wanted to play football and hear what the dog was saying to me.
I recommend this book for people who like dogs and football because in this book, there are a lot of scenes when Mike is playing football. If you like other Matt Christopher sports books, you will like this one too! He writes about baseball too.