Sly Cooper To Catch A Thief
Written by Michael Anthony Steele
Reviewed by Fletcher K. (age 8)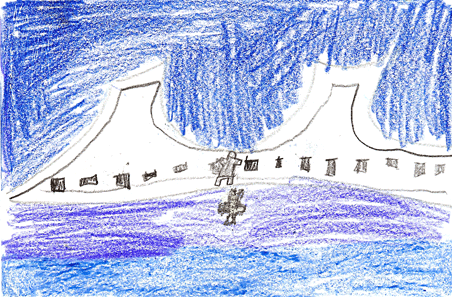 Sly Cooper To Catch A Thief by Michael Anthony Steele is the most interesting book ever! Sly is the greatest thief because he only steals from master thieves. In the beginning of this book, Sly steals an invitation to Dimitri's engagement party. Dimitri was an art forger who stole paintings, copied them, and sold his fake pictures for money. Dimitri was in love with Madame D' Oinkeau. She had an excellent art collection and as you know Dimitri loved art. Sly Cooper couldn't resist trying to take the engagement gift. It was the Venus de Whalo, a statue worth millions! Watch out Sly! Inspector Fox is on the case. Sly and his accomplices worked out a great plan. The night of the party came and the plan commenced. Sly slipped into the skylight and found himself in a dark hallway. As Sly crept to the end of the hallway he came to a door. In it were Dimitri's art forgerers, the people who repainted the paintings. Bang! Before you knew it the forgerers were knocked out. Finally, Sly reached the statue and called his helpers. They took the statue to the van and started the engine but there was a problem. They had missed their boat! The next one didn't leave for another forty- five minutes! Sly had to distract the inspector. Will Sly be able to hold off the inspector? Will Sly Cooper be caught or will he get away? Read the book to find out!
Sly Cooper to Catch a Thief is a must read book! One reason why you should read this book is because of its suspenseful events. Is Dimitri really trying to steal the priceless work of art? Will Inspector Fox finally catch Sly Cooper? Another reason why you should read this book is because of its interesting characters. Sly is a master thief, but he is in love with the inspector even though she is trying to put him behind bars. Bently is a very intelligent turtle and he is the brain behind every plan. The last reason why you should read this book is because it has exciting actions. Sly picked up a guard and smashed him onto the ground. The inspector called the whole squad to get Sly but he jumped off the ledge of the bridge. Sly Cooper to Catch a Thief is an unbelievable book because of its suspenseful events, interesting characters, and wild actions.
I recommend this book to people who like action packed books! The main character is always in action. Whether it's knocking out guards or jumping off a bridge. He is always on the run from the inspector but some how he is in love with her! If you like action packed books you must read this book!