Star Paws
Written by Jenny Dale
Illustrated by Jenny Dale
Reviewed by Jive J. (age 9)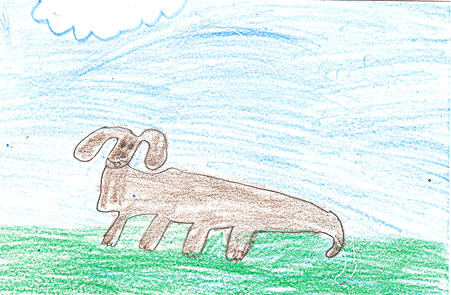 Star Paws by Jenny Dale is an interesting story . Emily, Neil, and Prince the dog, meet each other at the King Street Kennels .They become best friends. Neil planned to go to a dog show, but it turns out that Prince doesn't behave in front of the camera. The owner tried to give him everything he wanted, but nothing worked. Will they ever find out what's wrong ?
You must read Star Paws by Jenny Dale! Star Paws has great illustrations. On page 5 the words go with the pictures. It has interesting parts. Neil and Prince's owner tries to get Prince everything he wants, but they can't figure out what's wrong. Prince runs around Neil and does not know what he is doing and digs up something. It has awesome settings. One setting is the King Street Kennels where it has lots of space to keep dogs. Another setting is in Prince's studio, it has anything a dog wants. A third setting is a big parade that has balloons of all kinds of different colors. So you can see, Star Paws is an interesting book it has excellent illustrations, interesting parts, and awesome settings.
I recommend this book to people who like to solve dog problems .You won't be able to put it down until you find out what's making Prince misbehave! Star Paws is a great book that you must read. Don't forget to read Star Paws by Jenny Dale!