Captain Underpants and the Perilous Plot of Professor Poopy Pants
Written by Dav Pilkey
Reviewed by Billy C. (age 10)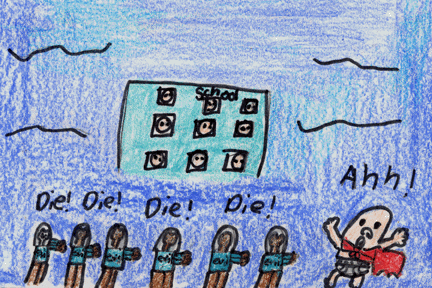 Did you ever get laughed at for your name? Well, this story tells all about it. It is about a science teacher who didn't want to be a science teacher anymore so he quits. Mr. Krupp hired Professor P. Poopy Pants to be the science teacher. Everybody laughed at his name. So he decided to take over the world. Captain Underpants wants to prevent this from happening so he fights him. If you want to know who won, you should read this book.
I thought this book was funny because the science teacher's name is silly. My favorite part in this book was when Captain Underpants and Professor P. Poopy Pants were fighting becuase there is a flip book of them fighting. This book is a part of a series of Captain Underpants. It is book four. This one is different from the others because it has a list of funny names you can name people but not to hurt their feelings. Other Captain Underpants' books do not have that.
I recommend this book to people who like funny books. If you like flip books and funny stuff, you would like this book. My favorite part is the flip book. Maybe other parts will interest you.