Charlotte's Web
Written by E.B. White
Illustrated by Garth Williams
Reviewed by Olivia C. (age 8)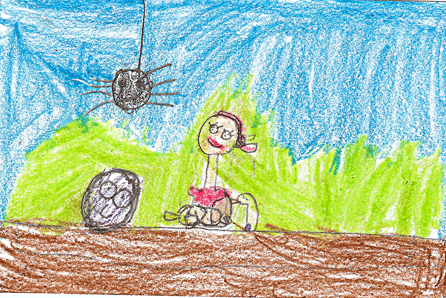 Charlottes Web by E.B White was an exciting story, Wilbur, a pig, was no ordinary pig. When he was just a piglet he was rescued from death by Fern, the farmer's daughter. Wilbur was brought to a big red quite farm that had eggs and grew apples. Wilbur met many different animals like sheep, houses, duckling, and even rats. But he had one unique friend named Charlotte. Charlotte was a very wise spider who helped Wilbur. Wilbur would be killed in the winter if something wasn't. His friend Charlotte has an excellent plan that just might save him. Will Wilbur get eaten or saved by Charlotte? Read to find out.
Charlotte's Web is a book like no other! There are sad moments for Wilbur. When Wilbur was going to get eaten. When wilbur almost got killed when he was born. Another reason why I liked this book because of its interesting characters in the story.The sheep that is very wise and Charlotte's the spider who has a plan that might save wilbur.The last reason I like this book is for the funny events when Wilbur was trying to spin a web and when the goose tried to spell terrific. As you can see, Charlotte's Web is a fantastic book for the funny events, interesting characters, and sad moments.
I recommend this book to people who like sad beginnings and happy ending. In the beginning Wilbur was a new born pig. He was going to get killed, but Fern stopped her dad from killing him. As the story goes on Wilbur's friend Charlotte continues to think up ways to save Wilbur. When you reach the end you will be really surprised!