Because of Winn-Dixie
Written by Kate DiCamillo
Reviewed by Alexa S. (age 9)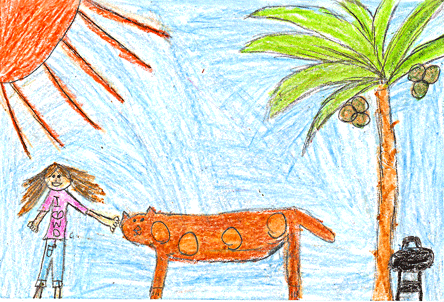 Have you seen the movie Because of Winn-Dixie? I saw it and I loved it! The movie is just as good as the book!Because of Winn- Dixie by Kate Dicamillo is about a little ten year old girl named Opal who finds a dog in a grocery store, the store was named Winn- Dixie. "Whose dog is this?" yelled the manager."It's mine!" Opal exclaimed. The lost dog wasn't really her dog! Opal had always wanted a dog, and this was her chance.That very day Opal said to herself that the dog needed a name now. Since she found the dog at Winn-Dixie she wanted to name the dog after the store! Now the dog had a name, Winn-Dixie! After she found Winn-Dixie she rushed home and hoped for her father to say she could keep Winn-Dixie. Do you think she will be able to keep Winn-Dixie? Read Because of Winn-Dixie to find out!
Because of Winn-Dixie is one of the best books you will ever read! Because of Winn-Dixie has great vocabulary that will help you picture the story in your mind. A sentence that helped me was "I stroked Winn- Dixie's head so long, and seriously that his eyes drooped, and drool came out of his mouth." I pictured Winn- Dixie closing his eyes. You will also like this book because Opal never gives up. For example, when she almost lost Winn-Dixie she kept on searching for him even though it was raining at night! "Will she find Winn-Dixie "? You will wonder to yourself as you keep reading. The book will keep you wondering other different questions like, if Opal's father would let Opal keep Winn- Dixie? As you can see, Because of Winn-Dixie is a spectacular book because it will keep you wondering different thoughts ,you will also admire Opal's determination, and it has great vocabulary that helps you picture what is going on in the story. So read Because of Winn-Dixie!
I recommend this book to people who like animals and taking adventures. Because of Winn-Dixie will stir up a lot of emotions while you are reading about the many adventures of Opal and Winn-Dixie. So turn of the cable and read Because of Winn-Dixie!