James and the Giant Peach
Written by Roald Dahl
Illustrated by Quinton Blake
Reviewed by Matthew B. (age 8)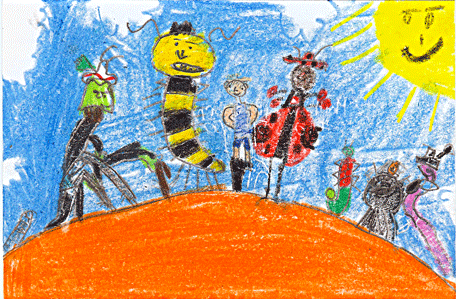 James and the Giant Peach written by Roald Dahl was an excellent book. James moved in with aunts after his parents were eaten by a rhino. James's aunts, Aunt Sponge and Aunt Spiker, treated him very badly. One day James met a strange old man who gave some magic crystals. When James dropped them on the ground a peach on the old peach tree suddenly grew into mammoth size. The peach was the size of a house! Inside the peach, James met Centipede, Grasshoper, Earthworm, Glow-worm, Ladybug, Silkworm, and Miss Spider. James and his new friends went on a great adventure across the Atlantic Ocean. Will James ever be free from his aunts? Read to find out.
James and the Giant Peach was an out of this world book. One reason was because it had a great problem to solve. The aunts made James chop wood for the kitchen stove outside in the summer heat all day. Also the aunts called him names and said they would beat him up. All he wanted to do was to get away from his aunts! Another thing that was great about this book the introduction to a strange person. The strange person wore a crazy dark green suit. He was a small man with a huge bald head. The old man gave James magic green crystals because some how he knew he was miserable. Also it has interesting characters. One of them only had 49 legs, the insects were wearing clothes, and they could talk. They were oversized and they were as tall as James. As you can see, this book was trully a great book because it has interesting characters, a strange person, and it has a great solution to a great problem.
I recommend this book to people who like fanticy mixed with adventure. You will read a lot about how James and his friends travel across the Atlantic Ocean with seagulls tied to the stem of the peach. They also go to the North Pole, and last but not least they traveled from England to New York City. I loved reading this book and you will too! Watch out you will be laughing your heads off!