The Knights of the Kitchen Table
Written by Jon Scieszka
Illustrated by Lane Smith
Reviewed by Phillip L. (age 10)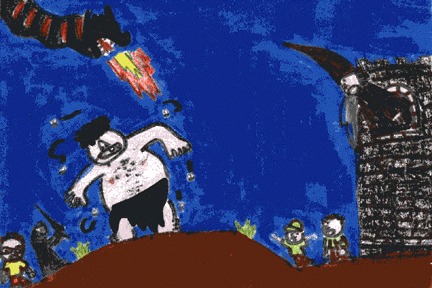 If you like knights, dragons, and giants you will love this book. It's about three kids named Sam, Fred, and George. It's Sam's birthday. Uncle Joe gave this book to Sam. Sam, George, and Fred looked at the book. They opened the book and saw a black knight on a horse. Green mist appeared and they were in the book! The knight said, "Prepare to die." Will Sam, Fred, and George die? Read this book to find out!
I think this book is hysterical. It has lots of humor. I like the part when Sam told the giant that he was weak and slow. The giant was really mad and he fought with the dragon. It was really funny because Sam was kidding about the dragon saying he was weak and slow. I think the giant was interesting. He would believe mostly anything they said no matter what.
I would recommend this book to 8 year olds and 9 year olds. If you like humor books you will love this book! Jon Scieszka has also written other books in this series so the adventure continues!