The Amazing Days of Abby Hayes
Written by Anne Mazer
Reviewed by Linley B. (age 9)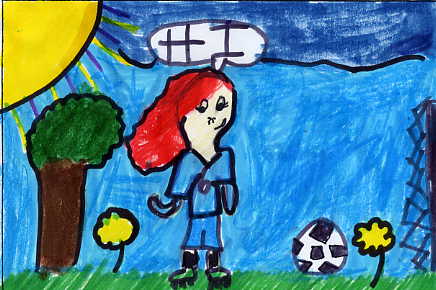 This book is about a girl named Abby. She wants to be a soccer star when she grows up. But she has to train really hard to get what she wants which is getting on the soccer team. She has to give up many things. All the time you are reading the book she is recording her daily events in her journal. At the same time Abby doesn't think she can get on the soccer team. Will she? Read the book to find out.
I thought the story was good because it talks about soccer and I like soccer. Also, there are some parts that I like. One of them is when Ms. Bunder does creative writing with Abby's class. The characters I like in this story are Ms. Bunder because she is hip and pretty, and Jessica because she loves soccer like me and she is cool and really nice.
You should read this book because if you like following your dreams this book is for you!!!!! If you like soccer you would also enjoy this book. The type of reader that would like this book would be someone who will never give up on something you really want. I recommend this book to ages 8 and up because it may be a little hard for kids 7 years old and below.