The Witches
Written by Roald Dahl
Illustrated by Quentin Blake
Reviewed by Stephanie S. (age 9)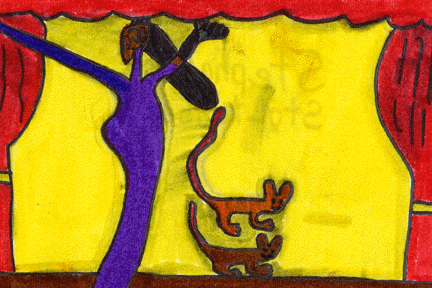 If you like witches or mice, you will like this book. There was a boy who was 7 and a half years old. He lived with his grandmother because his parents died from a car accident. His grandmother was a retired witch expert. She knew a lot about the witches. The witches hate children. They made children turned into different things. The boy and his grandmother went out to look for witches. They went from Norway to England. They were trying to find the Grand High Witch.
It was a very good book and funny too. My favorite part of the book is when the witches turned the boy into a mouse. For example, the Grand High Witch held her nose because they thought the boy smelled bad. They found the boy's hiding place. They held him down and forced some magic potion down his throat. Then the boy turned into a mouse. He tried to revenge to the Grand High Witch.
Roald Dahl wrote George's Marvelous Medicine also. George's grandmother was like a nasty witch too, but she didn't turn kids into mice. In both books there were magic potions that can turn people into different things. I was a little scared after I read this book. I was just afraid of the witch's ugly face.
I recommend this book to my friends because it is funny and a little scary. I also recommend it is people who love Roald Dahl stories.