The Castle of Llyr
Written by Lloyd Alexander
Reviewed by Tess L. (age 10)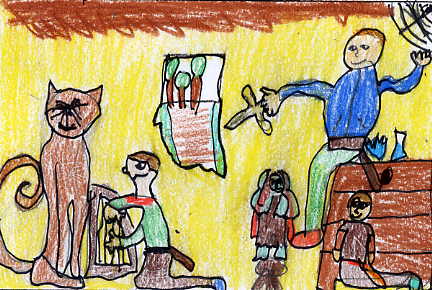 The Castle of Llyr is about Eilonwee who must go to the island of Mona to learn how to behave like a proper Princess. Eilonwee is the daughter of the house of Llyr. Queen Archen, the queen who once ruled Prydain wanted to steal Eilonwee's power by kidnapping her. Prydain is the magical land were Taran and the enchanters live and where power is worshipped.Taran tries to rescue her with his companions; Faithful Girgi, Fleuddur Flam, a wandering king, and prince Rhun, son of the king of Mona. On the way Ffleuddur meets something unexpected and - read the book to find out!
I love the book because it's full of adventure and because it takes place 300 years ago. My favorite part was when Ffleuddur meets his knew pet (I can't tell because it is the surprise). This particular book is when you meet new companions. I think this book is the third best in the series. I felt as if I could be in the story myself. But it's strange, it takes two chapters to get interesting.
I recommend this book to 8 years and up. It might not be appropriate for younger kids; otherwise it's ok.