Peter and the Starcatchers
Written by Dave Barry
Illustrated by Greg Call
Reviewed by Michael B. (age 10)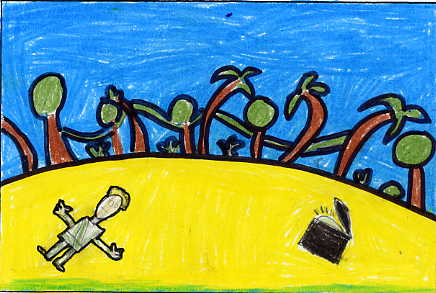 Peter is a boy who could fly, but not yet. During a voyage on a ship, the Neverland, strange things begin to happen. A rat floats in mid-air, dolphins talk, and something mysterious is in a trunk. Also, pirates are in pursuit, lead by Blache Stache, the most feared pirate of all. Peter and his friends become stranded on an island. They find mermaids and a big hungry......well, you will just have to find out.
I like this book because it tells how Peter could fly and why he never grew up. It also tells you Captain Hook's real name and how he lost his hand. I like the illustrations because they always draw the most interesting parts. Peter has changed in this story because he isn't as brave as he was in the original book. My favorite part was when Peter fought Blache Stache, the pirate.
This book is for third grade and older unless you have the skills to read higher.