Dragon Rider
Written by Cornelia funk
Illustrated by Cornelia Funke
Reviewed by Joey A. (age 9)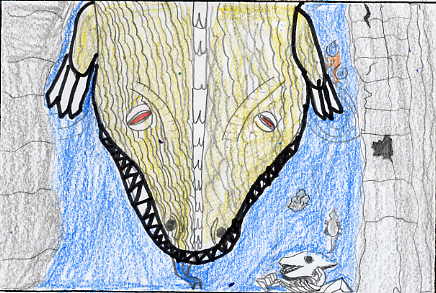 This book is about dragons who live in Europe. One day a rat tells them that humans are going to flood their home. One of the dragons (Firedrake) offers to go in search of a safe place for the dragons to move to called "The Rim of Heaven". None of the other dragons think he will be able to find it. His companion, a brownie named Sorrel goes with him. Along the way, they meet a human named Ben and he decides to go on the journey with them. They see many magical creatures on land and water. But they have to watch for someone or something. They meet someone that has a thousand eyes. This quest will almost kill them. Ben gets captured. Will they survive? Will they find the Rim of Heaven? Read the book to find out.
I thought the book was interesting because Firedrake could only fly when the moon was showing in the sky. My favorite part was when they met the genie. I felt excited when I was reading it because it was a fantasy book and lots of interesting things happened.
I think this book is for all ages and for people who like fairy tales because there are dwarves and dragons. This book is also for people who like action and mysteries!