The Vile Village
Written by Lemony Snicket
Reviewed by Nathaniel S. (age 9)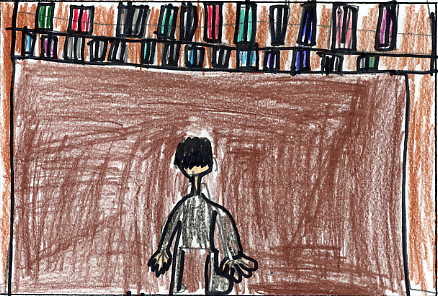 I am reviewing the 7th book in a series of Thirteen. This book is about 3 children named Violet, Klaus and Sunny Baudelaire. They are being tracked down by a man named Count Olaf who wants their fortune. Their father and mother have died in a fire. The Baudelaire children go to a town and figure out that Count Olaf is there and has captured some of their friends, Duncan and Isadora Quagmire. The Baudelaire children try to figure out where Duncan, Isadora and Count Olaf are. Will Count Olaf find them and capture them? Will the Baudelaire children find Isadora and Duncan? Read the book to find out!
I think this book is good because it is a mystery and you figure out some of it in the end. My favorite part is when the children's guardian Hector shows them his secret library. The three characters I liked were Violet, Klaus and Sunny. Violet reminded me of one of my brothers because he is almost always inventing things. You can figure out some of what will happen but to figure it all out, you have to read all the books in the series.
I recommend this book for third to tenth graders because it might be to hard for first and second grade and it might be boring for eleventh and twelfth.