The Good, The Bad and The Goofy
Written by Jon Scieszka
Illustrated by Lane Smith
Reviewed by R.C. (age 10)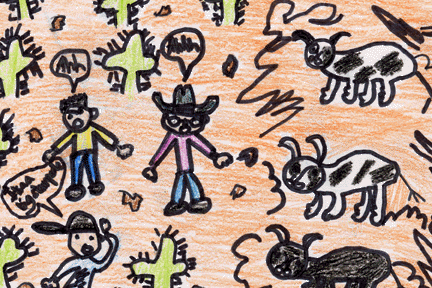 You thought that you just read books! In this story 3 kids named Sam, Fred and Joe were watching TV and suddenly Sam wishes they could go to the wild west. Green smoke comes up and a magic book sucks them up. Where did they go? Will they survive where they went? If you want to find out what happened, read this book. It is called The Good The Bad and The Goofy.
I think this book is excellent because it is full of nonsense words. For example, the author describes when the three characters run into a stampede. Fred calls the stampede a "thingamabob" and a "whatchama call it." On the next page there is a drawing of the stampede and Sam yells out, "It is a stampede!" Luckily, they did not get trampled because Sam says a magic spell.
If you really like Jon Scieszka's books you would really like this book. This book is part of a series of books called the Time Warp Trio. Read them all!