George's Marvelous Medicine
Written by Roald Dahl
Reviewed by Nour K. (age 9)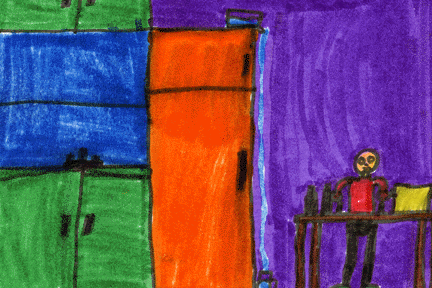 Once there was a boy named George. He liked inventing medicine. When his parents leave home, they keep him in charge of his grandma's medicine. George doesn't know his grandma needs a special medicine. George made a weird medicine for his grandma because she's like a big mean witch. She is always creepy and scary. He wants to make her into a nicer person.
To make the medicine, he goes into the kitchen to get a pot. After that he marches into the bathroom. George grabs some soap, shampoo and other washing stuff. He heads to the basement and puts the pot on the table. He stirs the potion. That is his magic medicine. Read the book and find out what will happen when his grandma drinks the potion!
I think this book is good because it is interesting how all those washing detergents make such a strange medicine. My favorite part was when he made the medicine because I don't like his grandma either! I found George interesting because he is a good medicine inventor.
I recommend this book to good readers who like Roald Dahl books. This one is short and funny!