Cloudy with a Chance of Meatballs
Written by Judy Barrett
Illustrated by Ron Barrett
Reviewed by Sidney H. (age 8)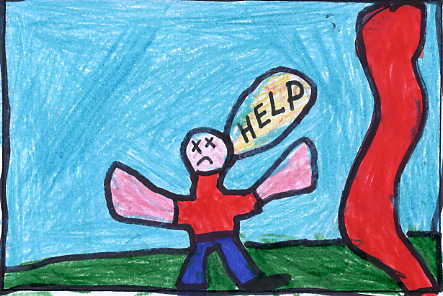 In the beginning Grandpa was making pancakes for breakfast. He flipped a pancake and it landed on Henry's head. That night, grandpa told a story, there was a place called Chewandswallow. Chewandswallow didn't have any food stores. It rained food there. One day, the food got bigger and Chewandswallow was crushed. The story was over and they went to bed. The next morning it was snowing so they went sledding. Read this book to find out more.
The book is funny because it has giant food. My favorite part was when there was a tomato tornado. The pictures were colorful, and they have a lot of details. This book reminds me of the book Pickles to Pittsburg. This book made me laugh when a giant noodle fell on someone's head.
I recommend this book to people who like giant sized food, and people who like food books. The thing that might interest you is the tomato tornado. You will like this book because it sounds like the author is talking to you. Grandpa is a great storyteller.