Molly's Surprise
Written by Valerie Tripp
Illustrated by Nick Backes
Reviewed by Sarah P. (age 7)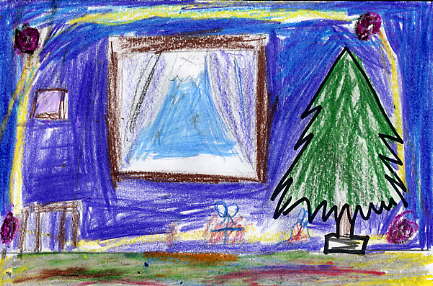 Molly's Surprise is about a nine year-old who is growing up during World War II. A few days before Christmas, Molly and her sister Jill found something and kept it a secret. At the end, the whole family, except the dad (because he's at war) saw that the thing was a package full of presents from her dad! Molly kept hoping to get presents from her dad, and then her wish came true.
I think that it's a nice book because I like the past and I also like the winter and old war times. My favorite part is at the end because Molly got presents from her dad and she really wanted presents from him. The story took place in the winter of 1944. I like Jill and Molly because they both changed a lot. Molly reminds me of my friend Alexandra because she's like a pattern of angry, happy, angry, and then happy again. Jill and Molly changed in the story because Jill was mean at the beginning and nice at the end. On the other side, Molly was impatient at the beginning and patient at the end. I think that the illustrations are great! The pictures are really colorful and pretty, they look like real people to me. This book is like other books by Valerie Tripp because it is part of the American Girls Collection. This book is part of a series it's similar to all the surprise stories that happened to the other American Girls. I felt sad at the beginning because Molly didn't get any presents from her dad. This story reminds me of my life because my dad was deployed and I was sad because I wanted presents, then I got presents so I was happy!
I recommend this book to kids who have at least one parent in the military because the girl's dad is in the Army. In peek into the past it tells about World War II, which happened in 1944. If you like historical fiction and you like to peek into the past you will enjoy this chapter book.