Monster Soup and Other Spooky Poems
Written by Dilys Evans
Illustrated by Jacqueline Rogers
Reviewed by Minela A. (age 10)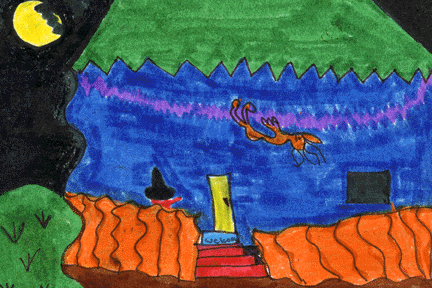 Have you ever read a book that is so funny that you cried? Well this book is that funny! It is called Monster Soup and Other Spooky Poems. Some poems are Halloween poems. One is called "The Witches and the Goblins." Another one is called "The Pumpkins Knocking at my Door." A lot of them are rhyming poems. Some of them make me wnat to get up and dance like the poem called "Hist Whist." My favorite line from the poem is "Whist look out for the old woman with a wart on her nose." I think that line was hilarious. Poems like "The Toaster" showed how a boy gave toast to a dragon!
The poems and illustrations in this book are great. The pictures are colorful and show the funny parts of each poem. This book reminds me of when I was a little girl. Every Halloween I would go trick-or-treating with all of my friends. It might remind you of your Halloween adventures too.
I recommend this book to kids who like poems, especially spooky poems about monsters and dragons. If you want to be a poet, read Monster Soup and Other Spooky Poems!