Say Cheese and Die
Written by R.L. Stine
Reviewed by Christian C. (age 9)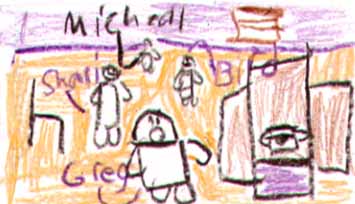 Shari, Bird, Michael, and Greg go down to the Coffman's house and explore. Greg doesn't think that's a good idea. Bird teases him; Greg says, "Okay, okay. I'll go." Then, they go to the basement. Greg finds a camera. Then, Greg takes a picture of Michael, but Michael is not looking. The picture showed Michael, but he was falling. Then, he actually fell, and badly bruised his leg. Greg went home; he wondered if the camera showed the future or made it terrible.
I think it is a good book and I like the parts when the picture comes alive and makes trouble. It reminds me of when I get in big trouble by my mom. The author of this book is R.L. Stine, who writes all of the books in the Goosebumps series. I like that series.
I would recommend this book to someone like my friend, Jacks,or anyone who is interested in the Goosebumps books.