Where's My Teddy
Written by Jez Alborough
Illustrated by Jez Alborough
Reviewed by Calvin T. (age 6)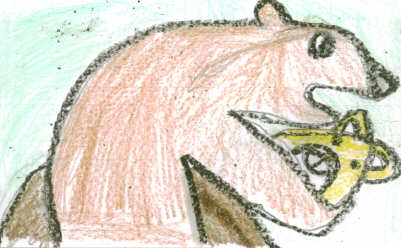 Eddie?s looking for his teddy in the woods. His teddy?s name is Freddie. ?I?m scared,? Eddie said. Then he tiptoed and tiptoed and he looked out, and what?s that? He saw a big, big, big teddy bear and then he heard crying, ?You are too small to huddle and cuddle!?
Then the gigantic bear had the tiny bear, and Eddie had the big teddy! Then they switched their teddies to go home and sleep.
I liked that Eddie had a gigantic teddy, and the gigantic bear had the tiny teddy because it was silly. I liked when Eddie screamed because the gigantic bear was looking at him. I liked when Eddie finds the big teddy because it?s too big for Eddie!
People should read this book when they lose their teddies, because it is better than finding your teddy! You could read this book instead of walking around looking for your teddy!