Ariel and the Secret Grotto
Written by Walt Disney Productions Presents
Illustrated by Disney
Reviewed by Melissa L. (age 9)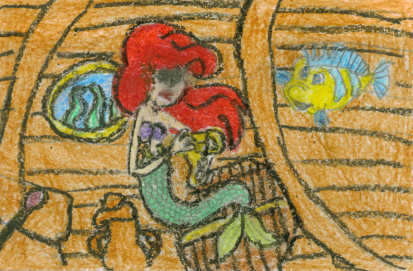 Once there was a mermaid princess named Ariel. Her book is about how much she loves to find humans' treasure, with her friend Flounder the fish. Ariel was curious, so she went to the surface of the ocean, but she wasn't supposed to because she was only fifteen years old, and she had to be sixteen to go to the surface. Ariel saw a boat with a boy and a girl in it. Ariel always wanted to see a real live human up close. Then, Ariel saw the girl drop her doll into the water. Then, Sebastian the crab, Ariel's teacher, came and said, "You can't keep that doll because that is from the human world, and your father doesn't like human world stuff." So Ariel gave it back to the girl, and went back home.
I liked the book because the mermaid learned a lesson about taking human girls' toys for her collection. I liked the part when she took the fake pearls because it was just like when I took something, and I made an excuse! I think the book was good was the mermaid found treasure in the sunken ship because I like finding treasure too! I wonder if the mermaid wants to live on the land. I like how the book made me think about this. I love the drawings, because they are very nice.
I recommend this book to my little sister, Dayanna, because she loves The Little Mermaid shows so much.