Dragon for Sale
Written by Marianne MacDonald
Illustrated by Anne Kennedy
Reviewed by Adrian C. (age 9)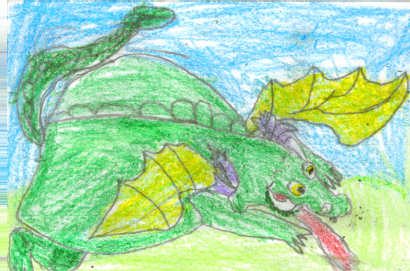 Emma asked her dad if she could have a puppy, but he said, "No!" and Emma's mom said to Emma's dad, "Don't be mean!" and he still said, "No!" But the next morning Emma sneaked out to the pet store to buy a puppy. But she saw something else... She thought it was a lizard, but it wasn't! It was a fire-breathing dragon! How did she know? It had a small body, skinny head, and a tail. She thought, how could she keep a dragon a secret? But she didn't. She gave the dragon away to the milkman, Mr. Nowell. He loved Fair, the dragon, and he took good care of him!
I think Emma did the right thing because a dragon is bad to keep. I think Emma did a good thing because her dad bought her a puppy by the end of the story. I think a dragon is the worst pet to keep, because it could be dangerous!
I recommend this book to my family because it has dragon situations, which are a little scary!