Captain Cat
Written by Syd Hoff
Illustrated by Syd Hoff
Reviewed by Selina L. (age 8)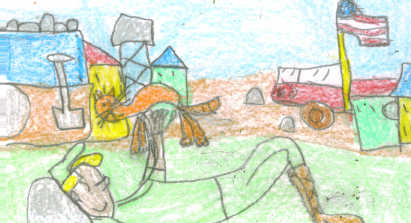 Captain Cat was happy all to join the Army, and the soldiers loved Captain Cat. But one day one soldier was cleaning the bathroom, and another soldier was sweeping the floor. They were too busy for Captian Cat! Captain met Pete, the soldier who always played with him. Next, Pete got in big trouble because he was always playing with Captain Cat, and the real Captain put Pete to work in the kitchen, to peel the potatoes. Pete and Captain Cat were tired and then they went to sleep. The last part of the book is when Pete was dreaming about Captain Cat, and Captain Cat was dreaming about Pete. They were dreaming about each other because they love each other.
Pete loves Captain Cat because Captain Cat is a cute cat! I think Captain Cat is cute too. He is orange with black stripes and his feet are white. Captain Cat is silly, because he likes to go into the garbage can. Pete and Captain Cat play together when Pete does not have work. That is nice, to me, like how I play with my friends.
I want my friends to read this book because it is a funny book, especially the part when Captain Cat and Pete dream about each other!