Hop on Pop
Written by Dr. Seuss
Reviewed by Ricardo L. (age 7)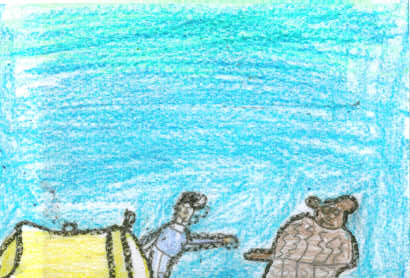 Hop on Pop is a book with many little rhyming stories in it. First, some pup is up, and jumping over a bird on a tree. A mouse was on top of a house, and then he put the house on his back. Then, there were tall men and four small little men and the little men were playing with 9 little balls and they looked stretchy. Next, all of the little men fell because they all fell down with the ball. There was a little man walking and a monster was eating his foot! There was a dog, and he threw Mr. Brown out of town.
I like when Pat is sitting and they said, ?No, no, don?t sit there.? Pat was going to sit on a cactus! I thought it was funny because Pat was going to say ?ouch.? Another one of my favorite parts was when a man was walking with a man, and a little dog was looking at the men because it was funny, because Mr. Black looks funny, and Mr. Brown with his glasses looks funny too. And Mr. Brown and Mr. Black were eating food and the dog was standing up and in his hand was an apple. He was standing on the mat. I like this part because it looks funny with the dog when he stands up. It looks funny to me with his apple in his hand.
My dad should read this book because he is a good reader, and he would like this book because it is funny.