Blueberries for Sal
Written by Robert McCloskey
Reviewed by Sandy T. (age 7)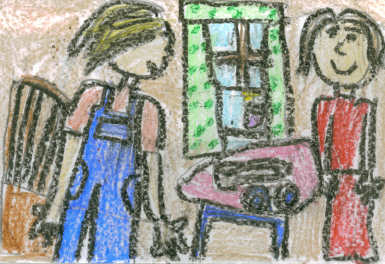 Sal and her mother were going to a blueberry field to pick juicy, yummy blueberries. Sal and her mother wanted to can them. Then Sal picked three berries, and on the way, she kept on eating berries. But her mom told her to pick them, ?kuplink, kuplink, kuplink.? She even steals her mom?s blueberries!
Next, bears came. And Little Bear just stuck her head inside Sal?s Mom?s pail and ate a handful of blueberries.
Last, they got mixed up. Little Bear followed little Sal?s mother. Little Sal followed Big Bear. The bear almost spilled Mom?s pail! Mom was scared about the bear eating. She wanted to find Sal. She ended up picking one blueberry, and her mom finally found her.
This book has great pictures. They should have had pictures in colors, because it would be nice, beautiful, and delightful. My favorite part was when little Sal dug in her mother?s pail to eat the berries, because it was funny. I think the bears should have been together, so they would not be lost in the blueberry field.
I recommend to hiking people so you don?t get lost in the woods.