James and the Giant Peach
Written by Roald Dahl
Illustrated by Quinton Blake
Reviewed by Duane K. (age 12)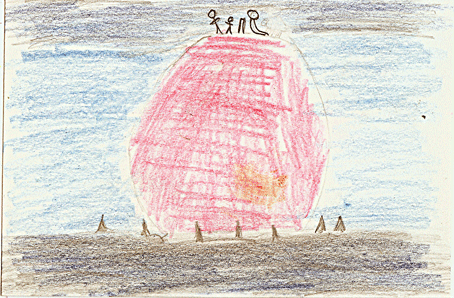 This story is about James Henry Trotter. James was a hard worker. He lived with his Aunt Sponge and his Aunt Spiker. One day he met a guy who gave him a bag full of green things. He dropped the bag and tried to grab them, but they escaped and went into the ground by a peach tree. A peach started growing and the next day Aunt Sponge and Aunt Spiker put a fence around it. They showed it off to people for money. They that night, James had to clean up all the mess, and he was really hungry, so he ate part of the peach. He accidentally ate one of the green things too and he shrunk. He saw a hole and then he went inside and found some big bugs. He became friends with them. The peach started rolling down to the ocean. It floated on the ocean for a while. There were sharks around so they hooked up a bunch of seagulls to silk from the silkworm. They flew to New York City, and landed on top of the Empire State Building.
I liked this book a lot. There was an overgrown peach and interesting characters. My favorite part was where they landed in New York. They all became famous in different ways. My favorite character was James because he was a boy my age and he did some of the things I do. I also clean the yard and I'm a hard worker. James changed a lot in the book. He didn't have any friends in the beginning, but then he became really good friends with the bugs and the kids in New York.
I recommend this book a lot because it's a good little book for kids who don't have any friends. I think that kids in third grade and higher could read it and enjoy it.